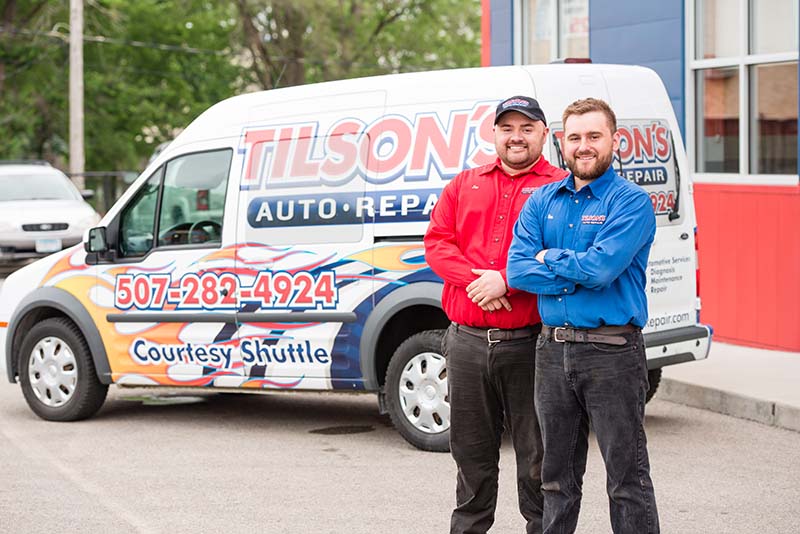 "Provide Excellence in Automotive Service"
Commitments
We are committed to delivering outstanding service by treating our customers the way we would like to be treated
We are committed to ensuring a happy and safe work environment
We are committed to being responsible citizens in the community we service
We are committed to pursuing profit but never at the expense of quality, service, and reputation
We are committed to building strong relationships with our suppliers, customers, and employees based on fairness and trust
Our Principles:
Never put money ahead of people
Treat each other with respect and dignity.
Provide honest and dependable auto repair work.
Have open communication between staff and throughout the shop.
Hold each other accountable to the highest standards
Tilson's Auto Repair Mission Statement
"Our Mission is to exceed the auto repair experience. By never putting money ahead of people and giving back to a community that gives us so much. "
Shop Goals
1. Have minimal come backs
2. Book 40 billable hours per technician per week.
3. Create specific sales, ARO, and Hours Per RO goals and share with entire staff.
4. Fully and accurately inspect every vehicle that enters our shop.
5. Accurately fill out every Multi Point Safety Inspection sheet
6. Communicate vehicle concerns to customer in a timely and accurate manner.
7. Get cars in and out in a timely fashion while providing top quality work.
8. Properly communicate employee concerns through the appropriate channels, in a courteous and timely manner.
9. Maintain up to date and accurate parts and supplies.
10. Treat each other with respect, compassion and kindness.
11. Have a great attitude and give 100% every day!